Hello my darlings! There is an opportunity to be part of a giveaway without any buy in. What's the catch? you may think. There is none! You just have to put in a little bit of your time and effort. This opportunity is for bloggers all over the world and it will definitely help to get your blog out there.
So if you're looking to grow your blog or social media following, we have a great and FREE opportunity for you! Free is good, right? Well, I think we all agree that Free is AMAZING!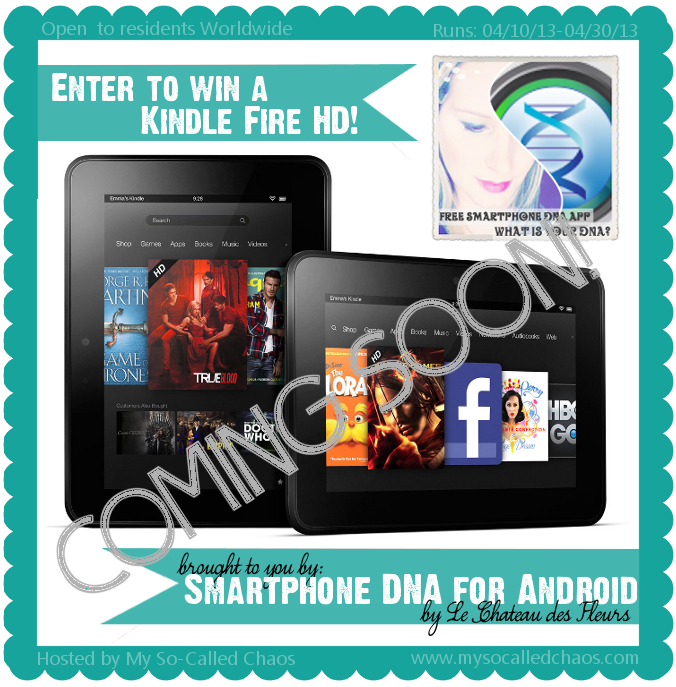 Isabelle from Le Chateau des Fleurs recently released a new Android app called Smartphone DNA, and to promote it she is giving away a Kindle Fire HD-which she is sponsoring entirely. The giveaway will be hosted by My So-Called Chaos, but what we need are other bloggers to share the giveaway on their blogs in order to spread the word! In return, you'll get two of your links in the Rafflecopter to get extra promotion for you in return for posting. This is entirely free, there is NO buy in, we just need two posts from you.
Post this announcement on your blog (code will be given after you request to join) to ensure your readers/followers have the opportunity to be a part of this giveaway too!

Post the actual giveaway (full Rafflecopter and all! People will be able to enter directly from your blog!)
If you are interested in participating in this FREE promotional opportunity, please email Miss Angie and once accepted into the giveaway you will be given all the information you need for your posts.
Giveaway is set to run from 4/10/13 to 4/30/13.
All requests to join required by 4/5/13!
Do you want to join in? Then email the lovely Angie.